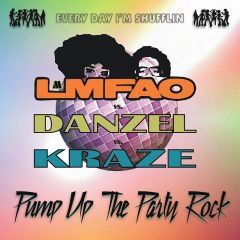 LMFAO vs. Danzel vs. Kraze - Pump Up The Party Rock (2011)
Laserkraft 3D "Nein Mann" (acapella)
DiddyDirtyMoney feat. Skylar Grey "Coming Home" (instr.)
P!nk "Get This Party Started" (acapella)
Kraze "The Party" (acapella)
Danzel "Pump It Up!" (acapella)
C&C Music Factory "Gonna Make You Sweat" + "Things That Make You Go Hmmmm...." (sample)
Salt'n Pepa "Push It" (sample)
LMFAO feat. Lauren Bennett & GoonRock "Party Rock Anthem"